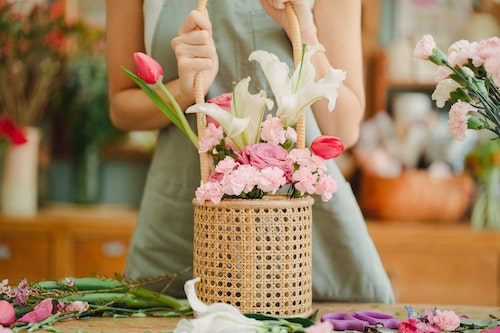 If you need home decor inspiration for spring, farmhouse decor is full of bright and cheerful ideas to keep your home feeling fresh and inviting. The warm, comfortable elements of rustic farmhouse decor lend themselves perfectly to springtime aesthetics, and can be as simple as displaying a few flowers in mason jars.
For more ways to add rustic charm to your home this spring, try these farmhouse style ideas:
Colorful & rustic spring printables
Gorgeous farmhouse printed pages are such great ways to give you seasonal colors without too much work. If you love decorating cottage-inspired floral arrangements and if you like decorating for spring, this might be the perfect idea for you. Try mix-and-matching different motifs to create your own personalized decor.
Decorate with faux flowers
Faux flowers are the perfect, no-maintenance way to bring springtime indoors. When choosing faux flowers, go for options with realistic greenery. While the actual blooms on fake flowers are usually convincing, having truly realistic stems and leaves makes a huge impact on your indoor floral arrangements.
Try seasonal wreaths
Have you considered springtime wreaths? A small green floral wreath can completely energize an area, whether faux or real. You can hang wreaths on or above doors, or drape across a large mirror for extra depth. Green plants are perfect for any season, but for springtime, consider adding some fresh flowers to liven up a space.
Decorated chalkboards
For easy farmhouse home decorating, consider a simple chalkboard. With a chalkboard, you can create completely custom decor - whether it's your favorite seasonal quote, floral designs or anything else your imagination dictates. You can use white or multicolored chalk, or try chalk markers for more precise artistic control.
Farmhouse style is an excellent source of spring decor ideas. While you can adapt the style for any season, bringing the beauty of nature indoors coincides perfectly with the cozy, rustic elements of farmhouse design.